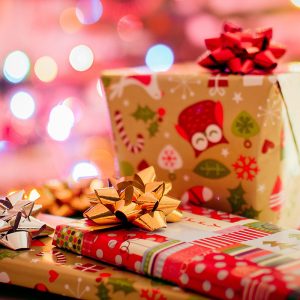 WINTER MIGHT BE the coldest time of year in terms of weather, but it can also be the warmest in love and cheer thanks to that wonderful spirit of giving.   Of course, we all love getting presents over the holidays, but there's something extra special about seeing someone we care about open the presents we so carefully chose for them. That's why our practice is taking a moment to look back on our favorite memories of gift-giving!
Our Team's Favorite Christmas Gift-Giving Memories
Sandra – When I was a teenager, I had bought my younger brother a tool box set for Christmas. It included a little hammer, screw driver and little saw. He was so excited and loved it.  On Boxing Day we all woke up to him sawing off one of the legs to the coffee table! My parents were so great about it. My dad asked my mom if she liked the table, which she did, and he took off the other 3 legs, made sure it was level and then added new legs.
Shannon – My friends use to get together and we would choose names. We would then buy each other a gift that we thought they would have loved to receive when they were a child. We then took those gifts and donated them to the Children's Wish Foundation.  It was great to see my friend receive Chinese Checkers (she is half Chinese), and another friend receive a Barbie with a huge engagement ring on her hand.  Everyone took the time to find that perfect gift.   It was so much fun and it for a great cause.
Shauna – I use to take my mother's favourite jewelry and hide it for months before Christmas. I would wrap it and give it to her for Christmas. She always was surprised and said "Hey, I was looking for that!"
Lorraine –  Every year I donate gifts to Friends with Hearts.  The charity was set up in 2011 by Jay Perry to bring Christmas to children in the Hamilton area in need.  He started by raising $1400 in 2011.  Anyone is able to donate money, toys, clothing, … Every year we take one day to wrap all of the gifts. This year Jay was able to raise approx $30 000 in gifts and there were over 120 people wrapping presents last weekend.   Here is the link if anyone is interested in donating or helping next year!  http://www.friendswithhearts.com/
Looking For Fun Gift Exchange Ideas?
If you're looking for a new gift-giving tradition to try out, take a look at a few of the ideas here. We've shared two of the ones we thought were unique!
"Cookie-swap packing party. Besides cookies to swap at the party, guests bring extras, along with metal tins, takeout containers, plastic boxes, and packing materials. Together, you carefully box up the extra cookies to ship to out-of-town family and friends."
"Swap toys with Santa. Along with cookies and milk, leave (gently used) old toys under the tree on Christmas Eve for Santa to "take back to the North Pole." (You can donate them to an organization like Toys for Tots or Goodwill.)"
If you're trying to think of ways to teach your children the joys of giving gifts, check out this short video:
What Are Your Favorite Gift-Giving Memories?
We'd love to hear some of our patients' best gift-giving stories, so share yours with us in the comments below or on Facebook. Whether they're sweet or funny, we can't wait to read your stories! We hope you make wonderful new gift-giving memories this holiday season!
Thank you for always being our valued patients and friends!
The content on this blog is not intended to be a substitute for professional medical advice, diagnosis, or treatment. Always seek the advice of qualified health providers with questions you may have regarding medical conditions.
Top image used under CC0 Public Domain license. Image cropped and modified from original.